THE LOCATION
Mossel Bay in the Eden district of South Africa is our home base. Steeped in maritime history, Mossel Bay was founded by Bartholomew Diaz in 1488. It is one of the very few North-facing sea towns in the country and has a temperate climate that has been compared to Hawaii (not in actual temperatures but in how little the average fluctuates over a year) and an extensive range of sea and land activities. Most importantly for use, the great fishing in the temperate Indian Ocean bay from which the town takes its name.
TOUR DATES AND BOOKING INFORMATION
TOUR RATES
( 6 Days Fishing / 7 Nights Accommodation )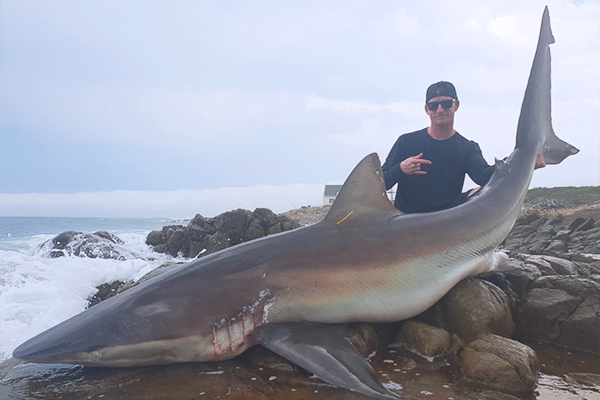 THE FISHING
We offer day trips as well as custom packages (including accommodation and meals). We offer rock-and-surf excursions as well as deep sea trips here. Our main target species in and around Mossel Bay are big sharks including (Raggies, Bronzies, Hammerheads, Makos, Threashers, Hounds and more) as well as rays (including Black rays, Duckbulls, Diamonds, Blue rays and Marble rays and more). Edibles and game fish include Kob, Steenbras, white and black Musselcrackers, Garrick, yellowtail, Yellowbellies, Grunter, Galjoen and much more.
Should you choose to create a custom package including accommodation you will be staying at the Cape Vacca Private Reserve. A beautiful 4 star cottage right on the water located in one of the best fishing spots.
WHAT IS INCLUDED?
All tackle and bait
Transport
Accommodation
Airport Transfers
Fishing Guides
3 Meals per day
Ninja ( our 30ft Buttcat ) is also available at an additional R 15 000 per day
Please note that this is not included in your tour price.
INTERESTED?
Please send us your details. We will mail you questionnaire that will help us create your custom quote.
GALLERY : Mossel Bay, South Africa
GALLERY : Cape Vacca Accommodation