Based out of Mossel Bay on the picturesque Garden Route (Eden District) of South Africa, Go Fish Tours hosts fishing tours all over Africa.
We offer a wide range of packages, from day fishing trips in our home bay to custom adventure tours to remote Africa fisheries. We are constantly expanding our horizons and looking for the next best place to go fishing.
We are passionate about sustainable fishing practices, and advocate the importance of catch-and-release, ensuring that the fish will be around for years to come. We work alongside ORI (Ocean Research Institute) tagging fish and compiling data for scientific purposes.
Shawn Mey has put together a dedicated team of fishing travel experts and professional guides with top angling knowledge to make your fishing tour a once in a lifetime experience. From camping in Angola where the desert meets the ocean; to fishing the reefs of St Lazarus Banks, we are here to help you land those species on your bucket list.
We make use of the best equipment and world class tackle and cater for all levels of fishermen and women, from beginner to pro and everyone in between.
TEAM WORK MAKES THE DREAM WORK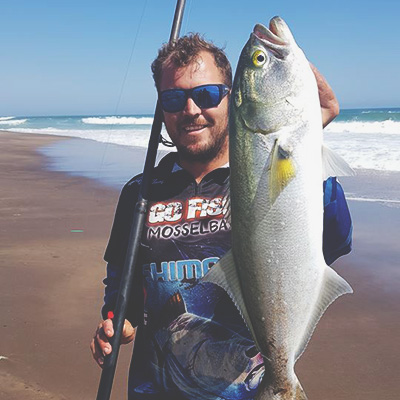 Shawn Mey | El Capitan
Shawn has had a love for fishing since before he could walk. He fished competitively for South Africa for nine years but is most passionate about helping people catch their dream fish. He relishes the look of joy on a client's face when they land that special fish and that, along with travelling to exotic fisheries, is what keeps him going.
Chris Ferreira | The Right Hand Man
Chris has been fishing for as long as he can remember, and competitively for the past eight years. He has also been managing Go Fish Mossel Bay for the last six years, during which he has built up a great knowledge of what it is that makes clients happy.
Lauren Mey | Admin Supremo
Wife to Shawn and business partner. Her love for fishing started at a young age but was taken up a level after meeting Shawn. She has been on many tours but has since had a baby and now runs the all-important client liaison, and booking side of things.